Based on Luke 2:52, which describes the wholistic development of Jesus as a child, AMO was designed to nurture the whole child: spiritually, mentally, aesthetically, socially, and physically.
The transforming power of God's Word is placed at the heart of AMO's curriculum to regenerate minds and renew thinking. Children read the Bible and are taught to reason with biblical principles for fresh ideas, personal decisions and solving problems God's way. This builds a Christian world and life view.
AMO Program® components balance the rational and intuitive learning modalities which are cultivated in each lesson.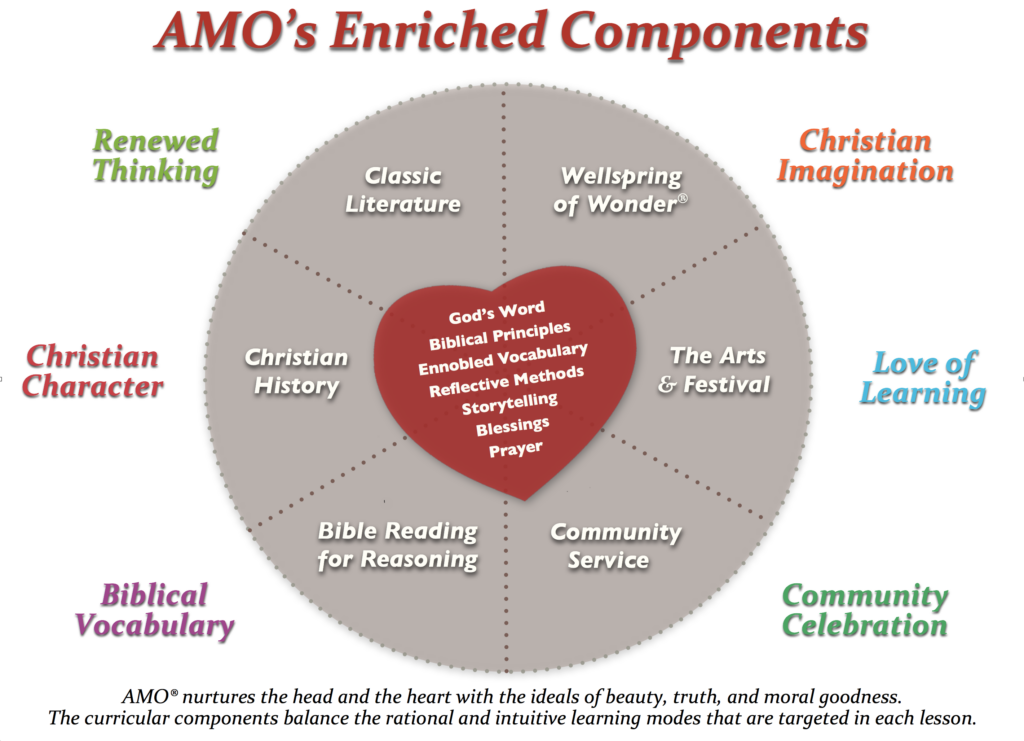 AMO transcends the mediocre spirit of the pop culture with an inherent emphasis on beauty and life. Learning begins in the imagination where thought and experience come together. AMO nurtures Christian imagination through classic children's stories read aloud by the teacher, the use of biblical imagery and vocabulary, and noble activities filled with color, music, movement and Christian ideals and virtues.
The Christian principles of self-government, stewardship and service are woven into the whole curricular structure. Coupled with a taste of Christian history, loving relationships with teachers and children's service projects, Christian character is taught, modeled and practiced. This is how future servant-leaders are groomed for Christ.
Because words are the building blocks of ideas, AMO has an emphasis on building vocabulary. Words are defined biblically and the children receive a new word with each lesson that is tacked onto the Treasure Chest of Words bulletin board.